MASONRY SERVICES / CHIMNEYS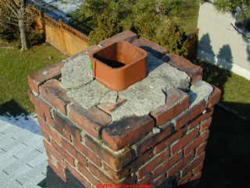 Because of the fact that chimneys are somewhat joined with the roof, often times the real problem can be in either one or both. Call Vel-U Roofing and one of our professionals will inspect your property and provide you with our recommendations.
Waterproofing
Trapped water in porous masonry can freeze and cause premature failure of the structure and lead to costly damages that can be avoided with application of waterproofing products.
Waterproofing your masonry exteriors acts as a water repellent and protects the masonry surface from water penetrations.
Chimneys
There are so many factors that can affect the life of your chimney. Often times our professionals come across damages caused by rain, snow and ice. Most common signs of chimney problems are:
white powder and stains on the bricks
chipping of the bricks, usually at top part of the chimney
bubbling paint or stains on the drywall near the chimney
When problems are detected earlier, it will be less costly to repair.
To schedule your free, no obligation home inspection, simply contact us.